For all Joomla 3+ templates built using the Zen Grid Framework v4 (any theme after October 2014) please refer to the Zen Grid Framework v4 documentation.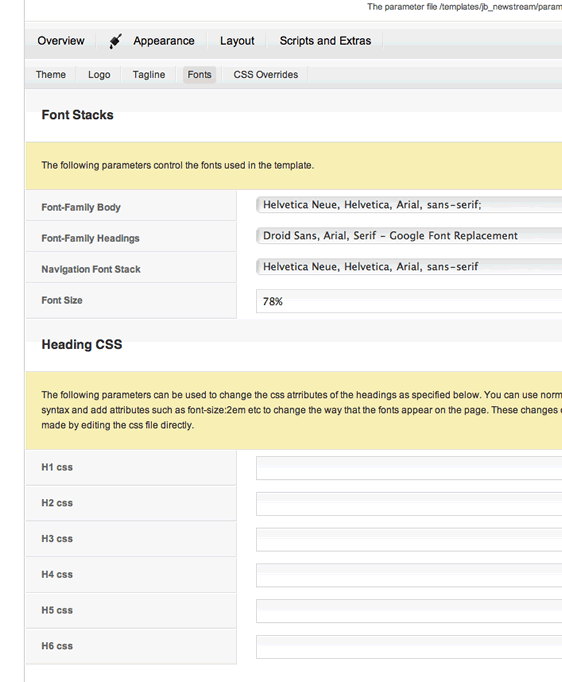 The font stacks section of the template administrator controls the appearance of the fonts on your site. These styles are written to the body class of the template and a container div int he template.
The Zen Grid Framework is able to load a selection of font stacks that are commonly available across the web and it also has the capacity to load fonts from the Google web font directory. There are 18 different font families available in the repository and unlike other font replacement techniques the Google font solution is standard across browsers. For a full run down of the fonts available please check the font directory itself or view the screenshot below.
Font Stacks
Font family body: This setting controls the font stack available for the body text on the page.
Font family headings: This setting controls the font used for the headings on the page.
Navigation font stack: This setting controls the font used for the menu links on the page when the main menu is published to the menu module position.
Font size: this value controls the base font size for the site. This setting may need to do for according to the font stacks you have applied in the settings above.
Fonts available using Google font directory.
Cantarell
Crimson Text
Cardo
IM Fell Great Primer
Inconsolata
Josefin
Josefin Slab
Lobster
Molengo
Nobile
OFL Sorts
Droid Sans
Droid Sans Mono
Old Standard
Reenie Beanie
Tangerine
Vollkorn
Yanone
Arvo
Neucha
Cuprum
Neuton
Philosopher
Tinos
Arimo
Cousine
Allerta
Geo
Allerta Stencil
Puritan
Bentham
Cherry Cream Soda
Slackey
Fontdiner Swanky
IrishGrowler
Schoolbell
Chewy
Homemade Apple
Kranky
Crushed
Crafty Girls
Calligraffitti
Orbitron
Rock Salt
Lekton
Lato
Gruppo
Vibur
Syncopate
Raleway
Just Me Again Down Here
Sniglet
Mountains of Christmas
Luckiest Guy
Corben
Cabin