For all Joomla 3+ templates built using the Zen Grid Framework v4 (any theme after October 2014) please refer to the Zen Grid Framework v4 documentation.
Overview
Zen Grid Framework templates come with two options for controlling the way that template controlled words are displayed on the front end of the website.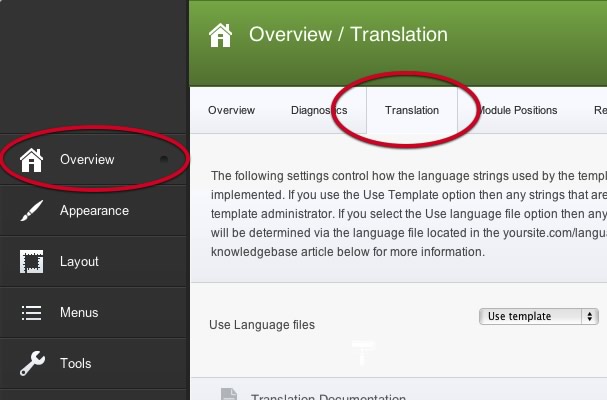 Use template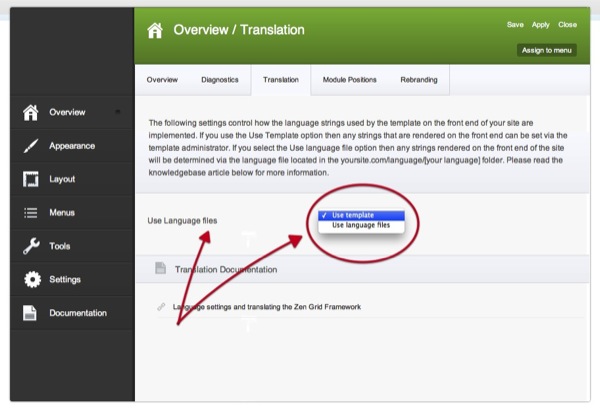 Use template is first option inside language setting. This option is easy to use as you can translate all text strings directly inside template setting. But in case you need to run multi-lingual website, you need to use language file instead.
Using the language file
Once this setting has been enabled the standard template parameters that relate to these strings will not have any effect on your site. Instead you need to edit the language file for the template in order to customise the text displayed here.
By default is selected "Use template" without language file. So you need to create own language file (mind, that template name must match folder name of your template inside templates directory): yoursite.com/languages/en-GB/tpl_yourtemplatename.ini.
Customising the text is as simple as opening that file in a text editor and editing the translation.
The default template includes the following strings that can be translated:
OPEN PANEL=Open Panel
CLOSE PANEL=Close Panel
LOOK BELOW=Look Below
MORE INFORMATION=More Information
TAB1=Tab 1
TAB2=Tab 2
TAB3=Tab 3
TAB4=Tab 4