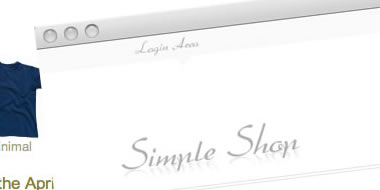 Getting Started
Please ensure that you read the getting started articles in preparation for working with this template.
An extra step when configuring Virtuemart Quickstart packages
When installing the quickstart package with Virtuemart there is one extra step in the process that needs to occur before your Joomla?Virtuemart simple shop is ready to be populated. Virtuemart stores the site url in a file called virtuemart.cfg.php - this site url does not update in some cases and so the VM config file needs to be edited. You can find this file in the administrator/component/com_virtuemart folder for your joomla installation.
1. Open the file and scroll down to lines 35 and 36. Where you may see a reference to the localhost. Replace this text with the url of your site.
eg: http://192.168.1.5:8888/joomla/quickstart/J158_simpleshop/ should become http://www.yoursite.com/
Once this occurs and the setting takes hold the images for the quickstart will appear and you will be able to successfully navigate through the Joomla installation.
Extensions used on the demo site
Extensions used on the demo site include:
JB Login
Extended menu - Suckerfish
Configuring the Template
You can set the width of the template in the Template Manager.

Layout and module positions
Here is an overview of the module positions available in this template. In most cases the styles are preset and there is no need to use a module class suffix to activate the design as seen in the demo. Simple Shop Version 2.0 includes the addition of two module positions to push the number available to 10 coded modules. The number of potential modules available in the template is actually 17 - given that you can have multiple modules in modt of the positions available in the template.
The thin shopping cart and login module are extra hacks and modules that are included in the template zip however and will need to be installed in order to re-create the login and cart modules.
There are a total of 9 module positions in this template.
The Demo is setup as follows:
JB Login is published at User1.
The Thin Virtumeart Cart is published to top.
An Extended Menu module is published to the left position using the flat list setting.
Advert1 and advert2 sit above and below the main content area. It is possible to publish upto three modules in each module position and have them space evenly across the page.
A menu module with the flat list selected is published to the bottom left menu area.
The bottom position is published to the lower right area.